TRAINING
Interested in joining the wonderful and rapidly growing world of aesthetics or sharpening your skills as a provider? Do you prioritize patient safety and want something to set you apart from the competition? Get hands-on aesthetic industry training in the Portland, OR, area at Amélie Med Spa.
We know there's nothing more powerful than helping someone feel amazing about themselves from head to toe. With courses for both beginners and seasoned pros, our training gives you the skills you need to share the beauty of confidence with your clients. We can't wait to help you become your very best!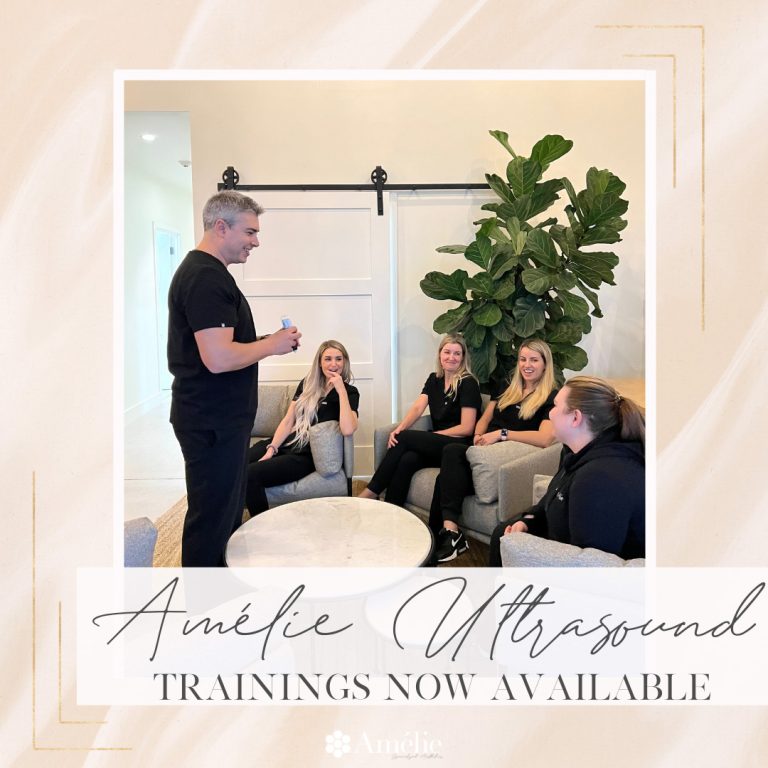 BEGINNING TO ADVANCED CLARIUS ULTRASOUND TRAININGS
Aesthetic injectors use Clarius, a hand-held ultrasound device, to deliver safe and precise treatments. Using ultrasound improves safety, enhances results, and allows real-time management of complications. From identifying vascular structures to understanding ideal placement of products, there is no substitute for seeing the anatomy in real time. The era of injecting blindly is rapidly coming to an end, and ultrasound is becoming the standard of care. Be at the forefront of the industry, build trust with your patients, and elevate your results by learning the practical application of ultrasound in aesthetics!
We offer both introductory and advanced training options. Anyone who completes our course will receive 20% off the Clarius device.
Our Instructors:
Dr. Chiovaro has been using ultrasound in his practice and training other providers in the use of ultrasound for more than 10 years. He is a highly regarded educator with numerous teaching awards and publications.
What Does the Training Include?
Training includes 4 hours of didactic and hands-on training tailored to your individual practice and needs. We'll review anatomy, facial mapping, aesthetic complications, and ultrasound-guided procedures. No prior experience with ultrasound is required, though more advanced trainings are available for those who are more comfortable with the basics. The Clarius ultrasound device will be demonstrated and used during training.
How Much Does the Training Cost?
Trainings start at $2,000.
Testimonials
The Amélie team instantly welcomed me into their beautiful space and onto the team. The training focused not only on hands-on techniques, but emphasized facial balancing assessment and the science behind aesthetics injecting. I felt comfortable throughout the training and left with increased confidence! They are truly an amazing team and it showed throughout my experience! – Taylor Myers, MD
"Recently I participated in a hands on training course covering Botox and dermal filler. While this was my first experience with both of these things, Summer made me feel extremely comfortable, supported, and confident throughout the entire training! I was given so many opportunities to ask questions, practice injection techniques, and have conversations about why certain approaches are used vs others. I left this training feeling confident and excited for the future; in the 5 hours I was there I felt validated in the fact that I believe this is the industry I am supposed to be in. I highly recommend Amélie for any course trainings and I know for me, I will be returning in the future!" – Sarah McPherson, RN
Ready to Get Started?
If you would like to inquire about a specific training or have any questions, please fill out our Private Training Questionnaire below or email us at hello@ameliemedspa.com!